Dear CBIT ALUMNI,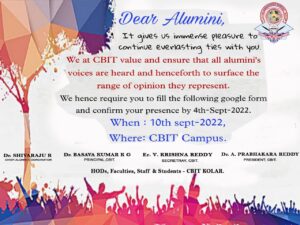 "Days fly-by & time passes; But in this hectic life, you are and will always remain close to our hearts."
We have great pleasure to inform & invite you to attend the Alumni Meet organized in the campus on 10th of September 2022 and make it a grand success. This is an event a lot of us have been waiting for.
You are our valued ambassadors and we would want your continued association with the  Institution. It's a great opportunity to interact with your batch-mates and relish & refresh your past memories.
Please Register to this ALUMINI Meet-2022 on or before 04/09/2022
Registration Link :https://forms.gle/a2bdWQcN5p7qirCw5