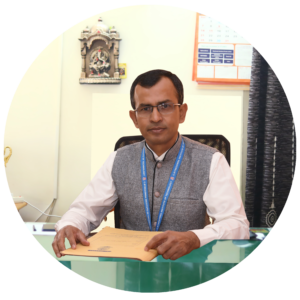 Dr. Aprameyan S
                                   B.E., M.E., Ph.D. 
Principal – C Byregowda Institute of Technology
CBIT – Moving Ahead …….
"Education is the most powerful weapon you can use to change the world."
It is my great pleasure to welcome you to C BYREGOWDA INSTITUTE OF TECHNOLOGY (CBIT), an Institution under C BYREGOEWDA EDUCATIONAL AND CULTURAL TRUST (CBECT) in the memory of great visionary the late Sri. C Byregowda, Ex – Agricultural Minister, Govt. of Karnataka. The evolution of the institute over the past two decades has seen the lush green, eco-friendly, state-of-the-art infrastructure and dedicated human resources for proficient education with an emphasis on imagination and innovation. Our main motto is to mould highly skilled technical professionals with a wide range of analytical, strategic and leadership capabilities to meet the global challenges. We endeavor to equip our students into world class professionals with technical skills along with ethical and spiritual values, so that, the students prove themselves to be not only qualified engineers but also responsible and ideal citizens of our country. There is also an ample scope in co-curricular and extracurricular activities at CBIT wherein the students are encouraged to show their talents.
The Institution has received Research Projects from various funding agencies towards research activities. The management is encouraging staffs to enroll for open online courses of their choice from a pool of rich online resources such NPTEL/SWAYAM, Coursera etc., enabling them to upgrade their knowledge in the latest technologies. Students and faculties have also secured many state and national awards for their achievements in academics and research. The MOU with more than 25 companies facilitates industrial internships and experiential learning. The training and placement center has well established industry network with a very good placement record. The training center provides necessary skill development and organizes leadership and entrepreneurship orientation programmes.
I express my heartfelt gratitude to all our stakeholders for their continued support, guidance, cooperation and active involvement in making CBIT, a leading and preferred technical institution. You will find this website very informative and useful to understand all about our institution. I have joined the CBIT family as Principal during its 13th year of relentless quality services to the society in the area of education, research and cultural activities in general and in the fields of Engineering and Technology Studies in particular. I encourage you to visit the various sections of our website to learn more about our institution.
I wish you a very happy and rewarding student life at CBIT and promise you an attentive and cordial atmosphere to make you socially responsible human beings reaching the pinnacle of your prospective career. I am sure that you will feel proud of being associated with us and make us equally proud with your academic excellence.
With Best Regards!
Dr. APrameyan S 
                 B.E., M.E., Ph.D.